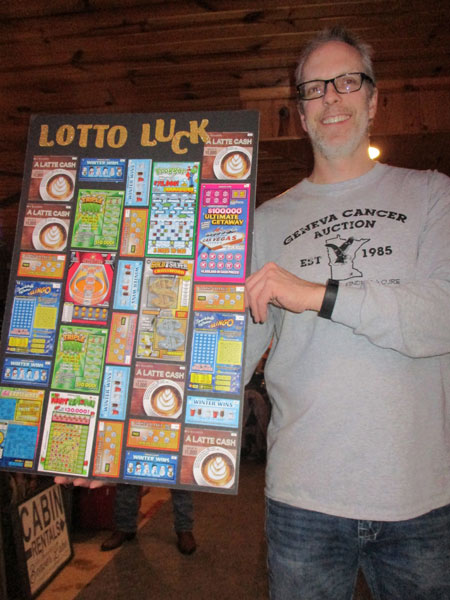 34TH ANNUAL GENEVA CANCER AUCTION — Keith Hagen holds the "Lotto Luck" scratch-off board that created and donated by Keith and Ruth Hagen. (Star Eagle photo by Kathy Paulsen)
By KATHY PAULSEN
Staff Writer
On Friday, Jan. 19, Whitey Hagen again welcomed everyone to the 34th Annual Geneva Cancer Auction.
"I appreciate all the years people have been coming to help fight cancer," said Hagen. "You all do a super job and I feel that we are going to show you a good time again tonight". 
Whitey went on to say that the farm and sports related portions of the cancer auction would be held on Saturday afternoon. He said that he was glad that people, including many local seed dealers, had stepped up and donated a number of items for that portion of the auction again this year.
He then said, "I hope you are ready to get started."
Again the first item up for bid was a quart jar of Vi Blazek's pickles that are now made by her daughter, Sue Hill. That was followed by the Geneva Cancer Auction's famous "stew maker," a bag of potatoes, a bag of onions, along with a pound of Hope butter. Next up was an oil change and grease job from Dave Syverson Ford, which Whitey explained have helped the local auction for a lot of years
A plate of peanut clusters made by Judy Christensen and donated in memory of LeRoy Christensen was also put up for bid and it was followed by many things ,including another subscription to the Star Eagle. Whitey thanked the Star Eagle for all the great coverage that they have given of all the cancer fundraising activities over the years.
Jamie Hagen then took over as auctioneer and asked everyone to thank his dad, DeWayne, and Hank Thompson for first getting the cancer fundraising event started back in 1985.
Jamie also announced that the king and queen of Hope butter, Victor and Kelly Mrotz, were in the house and thanked them too for their continued generous donations every year.
Chris Parnell, a researcher with the University of Minnesota, was also in attendance. Chris said, "We can't thank you enough for what the great people of the Geneva area have been doing to help us with cancer research. We can't fix what we don't understand." Chris went on to say that they have had good success in their cancer research in the last 5-8 years
Whitey replied, "Yes, we feel that we have been important in helping the cancer cause," as well as thanked his good friend Chris for coming.
A Golden Eagle Henry .22 rifle – "Golden Boy," which had been stamped as part of the Geneva Cancer auction and donated by O.C. Johnson, was well received. Next up on the auction was another piggy bank that contained cash donations people had added. Another unique item but was a small jar that contained "rolled change" that people had saved and donated for the cause – which does go on to help.
Friday night's auction included a great assortment of creative signs made by many area crafters. One wooden sign, "Cabin rentals…On beautiful Beaver Lake – Steele County, MN," along with a number of other signs had been created and donated by Signs by Simon, some in memory of Kelly Simon's grandmother, Romaine. Wendy Bogen created a number of state of Minnesota signs in memory of her grandmother, Marge Swearingen, and her mother, Jean Thostenson. Barb and Jack Kuchenbecker also donated a Minnesota sign which had a heart in the spot of where Geneva is located. Jackie Deml Mauseth donated a six-pane window which had beautiful flowers painted on the glass.
The auction again had a great assortment of "goodies" to enjoy including several from Verona Winegar, including a chocolate cream pie, carrot raisin pecan cake and a container of homemade vegetable soup.  Judy Christensen, who works at Geneva Bar and Grill, had been busy working at home too and donated a great selection of cookies, long johns and bars in memory of LeRoy Christensen. The auction also had a great selection of delicious looking cupcakes including chocolate marshmallow, and of course there was banana bread was paired up with a pound of that great Hope butter. 
There were also jars of beet pickles, sauerkraut, pickled northern and snack mix 
And what would a Geneva auction be without "Jell-o shots?" and Barb and Jack Kuchenbecker donated a large jar of them, and there was Apple Pie Snapps in memory of Matt Felt.
Local meat markets Dean's Smoke Shack, Geneva Meats and Steve's Meat Market donated bacon wrapped turkey breasts, rib eyes, smoked ribs, meat and cheese trays, and sticks of sausage, including venison.
There was also pizza to enjoy, as well as won tons, burger baskets from the bar and grill and a crock pot full of meatballs.
It was interesting to see how many people had come to the auction wearing their Vikings sweatshirts and hats.
Speaking of the Minnesota Vikings, there was a large Vikings bag filled with Vikings items along with an assortment of others items.
Keith and Ruth Hagen donated a "Lotto Luck" scratch-off board they created.
The auction also had Winter Fun figurines, a Monopoly golf game, green fee coupons for the Oak View Golf Course, a nuts and bolts organizer, and even a corvette from Motor Inn in Albert Lea.
Friday night also included a couple of "floor pillow beds" been made and donated by Ashley Broskoff, as well as an assortment of quilts, afghans, baby blankets and lap robes.
And we can't forget the assortment of gift certificates, some for oil changes and such, others for pizza from Papa Murphy's and Casey' along with other food establishments like Geneva Bar and Grill, Lerberg's', the Green Mill and the Signature Super Club.
It is always interesting seeing the many different items that people donate to the auction each year. We only wish that we could list them all. 
Also up for bid were 2018 Geneva Cancer Auction sweatshirts, T-shirts and caps, along with a collection of those items from previous years.
Whitey Hagen again took his place up on stage and said, "You get a good feeling seeing everyone coming together to do what they can to help fight cancer." He once again thanked the many businesses that donate items for the auction, all the supporters of the auction, as well as all the people who come to help every year including the auctioneers, clerks, and all those who come and assist in so many different ways to help fight cancer.
Whitey then wished everyone a good night and reminded everyone the auction would resume at 2 on Saturday afternoon, when another great collection of items would be put up for bid.
Next week the Star Eagle will share information about events that took place on Saturday, Jan. 20 during the Geneva Cancer Auction, including the auction of a basketball that signed by Carlie Wagner and a unique ice fishing pole made and donated, as well as announce the names of the winners of the yearly raffle that were drawn on Saturday night.
Whitey reported that he should have the final totals ready to announce from these two weekends of cancer auctions in January, and may be able to announce a date for the "spring clean-up auction" that will once again be needed this year as they were not able to get everything auctioned off that had been donated over the two weekends of activities.