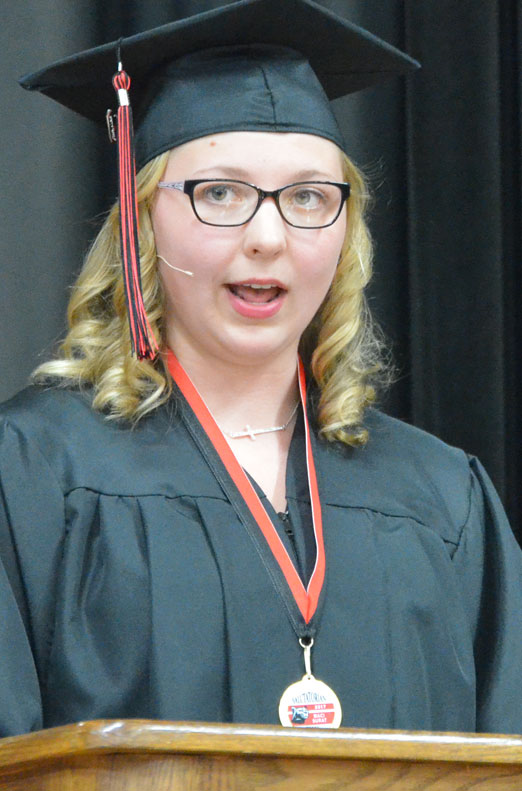 WORDS OF WISDOM — Salutatorian Maci Surat was one of three speakers selected by their peers to address the NRHEG High School class of 2017. (Star Eagle photo by Chris Schlaak)
By MELANIE PILTINGSRUD
Contributing Writer
Maci Surat, age 18, is this year's Salutatorian at NRHEG. Born in Sioux Falls, SD, Surat's parents, Robert and Lisa, moved with their family to New Richland when she was in second grade. Surat has four brothers: Jacob, Josh, Jadyn, and Jaren, and a dog, Miko.
As a high school student, Surat was active in student council/class officer, knowledge bowl, high school ambassadors, FFA/PALS, Panther Press, golf, volleyball, NHS, and reader's theater. Surat's community activities included Girl Scouts, volunteering at NRAFS, and volunteering at Mayo Clinic in Waseca. She also worked as a cashier at Wagner Foods and was employed at Ole and Lena's food truck during the summer.
What will Surat miss most about NRHEG? "I am going to miss walking down the hallway and knowing every person I see!" she says. "It will also be an adjustment to have professors who don't even know my name when I am so used to having close relationships with all my teachers."
Surat has a lot of great memories from her time at NRHEG. "I really enjoyed cheering on all the sports teams with my friends!" she says. "There were many times where we were just having fun, but actually making lasting memories. Our class this year had somewhat of a tripping competition going on; if anyone was walking anywhere, there was a good chance someone was trying to trip them. Yes, people fell!"
Surat says she had a close relationship with all of her teachers. "However, Mr. Churchill has always been one of my favorites because he likes to joke around and have fun, but also knows when to be serious," she says. "Senora Olson was always more like a friend to me than a teacher, and she is part of the reason I will be minoring in Spanish [in college]."
Surat's future plans are to attend Gustavus Adolphus College to major in psychological science and double minor in neuroscience and Spanish, Surat's favorite subject in school. "I'm so excited for all the opportunities and changes that come with college," she says. "It's a whole different world and I can't wait to see where the path takes me."
Surat isn't sure where she'll be in 10 years. "But hopefully a little smarter and not looking older!" she says.
Her advice to herself as a freshman? "Don't take everything so seriously! It's not the end of the world if you forget to hand in an assignment or get a bad grade on a test. In the end, it will work out."
Surat didn't expect to become Salutatorian. She says, "It really wasn't on my mind very often. I was more worried about getting good grades for my college GPA." Surat's parents are proud of her accomplishment in becoming Salutatorian. She says she is grateful that her hard work paid off, and that she is very proud of her best friend, Jennifer, for becoming Valedictorian: "We had a lot of late-night study sessions in the last four years!"
Surat's tip for younger students looking to excel in school, is: "Ask questions! I do not regret any of the many times I raised my hand in class. Show interest in the subject matter and try to enjoy learning, because there is no greater power than knowledge.
"I learned a lot in high school," says Surat, "including how to graph a polynomial function, the function of cell organelles, and the different types of governments, but that is not the most important thing. What matters is how growing up in New Richland and attending NRHEG has developed me into who I am today. Thank you to my parents, teachers, and community members for your endless support."