Al Batt says he's lucky to live near Hartland;
we say we're lucky to have him in the NRHEG area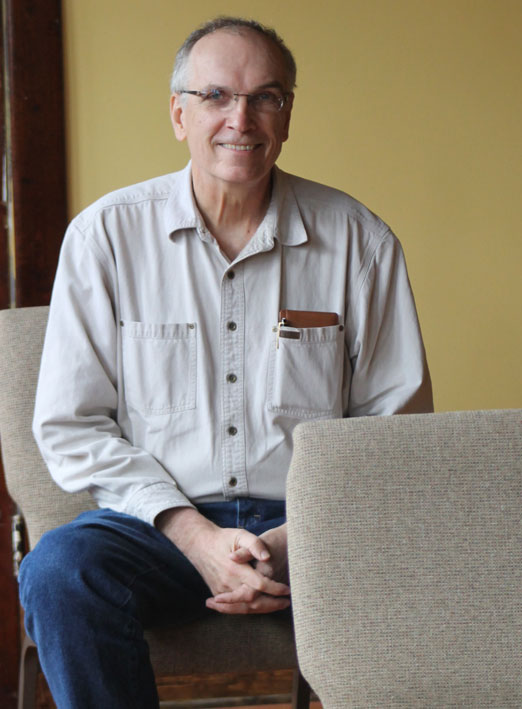 MAN OF MANY STORIES — Al Batt, storyteller extraordinaire. (Star Eagle photo by Melanie Piltingsrud)
By MELANIE PILTINGSRUD
Contributing Writer
We all know Al Batt as the man who writes humorous columns and gives talks on ornithology, but how did this "storyteller" get where he is, and what is he up to today?
Batt grew up on a farm outside of Hartland, MN – a dairy farm, which also had beef cattle, ducks, geese, chickens, goats, turkeys, and pigs. Now, having come, as he puts it, a whole mile in life, he still lives by Hartland, and he can't imagine why anyone would want to live anywhere else.
What he likes most about Hartland is the people. "And it's my home," says Batt. "And by saying that, that's everything I like about it. I like the rural. I spend a good share of my life on the road in planes and hotels and things. It's just really nice. Sort of a pastoral place to be."
That rural setting and other fond memories helped lead to a life-long love of birds. Batt explains what a spark bird is: "It's a bird that we see that makes us want to see other birds. I have more spark birds every time somebody asks me, "What's your spark bird?" I think of a snowy owl that came to our farm. I think of the chickadees that I saw every day at our feeders..." Batt also recalls a toy he was given during a hospital stay as a small child – a Tweety Bird: "Everybody said it was a little doll, and then I'd get mad at them, because boys weren't supposed to have dolls in those days… Then G.I. Joe and all these guys came along, and all boys had dolls. But I had this little Tweety Bird, and I just loved that Tweety Bird." Batt's dad pointed out birds, too, as the two walked in the woods along the LeSueur River to get the cows. "I have so many reasons for being a birder," Batt says. "I love looking at birds. My father said a great thing to me. He said a lot of great things. I should have listened more. He said, 'If you like birds you'll never be bored a day in your life.'"
Not only birds
Batt not only observes birds. He has the gift of being able to write and tell about them, too. Batt wanted to be a writer since the second grade when a paper he wrote was made into a school play. But he forgot all about the school play. "My mom kept the papers in a big chest upstairs," says Batt. "Mrs. Demmer was my teacher, and I wrote a paper in the second grade. I'm sure none of my classmates remember it, 'cause I didn't remember it until my mom passed away." Finding the school play in the chest brought it all back.
"That's why I keep a journal," says Batt, referring to the importance of memories. "Mrs. Demmer tricked me into keeping a journal. She was a wonderful teacher from New Richland. Jack London kept a journal. I loved Jack London, and one thing led to another and I was keeping a journal, and I've kept one ever since. And so I find all these things that I have completely forgotten, and I find those in those journals, and it's just a great gift. And I owe it all to Mrs. Demmer."
Batt has a great respect for teachers: "In a fair world the shortstop for the Yankees would be making what a teacher makes, and a teacher would be making what the shortstop from the Yankees makes, 'cause who has a bigger impact on my life?"
Another experience in school broadened Batt's talents as a writer. "I broke my hand playing football," he says. "I had to write left-handed. I could write pretty decent with my left hand, only I'd have to slow it down so much." Now, Batt can write with either his right or left hand. He adds seriously, "The problem is I can't read anything I've written with my left hand."
How it began
Batt doesn't remember what his first publication was. "There was a lot of 'em around the same time," he says. "Cappers Weekly, the Saint Paul Pioneer Press, a lot of publications like that. Then the Smithsonian magazine did a story about me […]. They like to cover odd people and odd things. I write cartoons. I just do the captions. So they did a story about me writing those. It had to be a really slow month for stories. It was a multiple [page]… I don't know how many pages…. Page after page after page. There was a camera man from National Geographic. I had to put on certain clothes so I'd look more hickish, if that's possible. He had a Hasselblad camera. Like the Lamborghini of cameras. He took like 500 photos and then they used one." Of the story, he says, "It turned out nicer than I thought."
As with many of Batt's stories, the events that led up to the beginning of his writing career involve a humorous account. He met up with the editor of a newspaper in Burt, Iowa at his uncle's barber shop. Batt relates, "I didn't like going to my uncle. I loved my uncle, but I didn't like going to him for haircuts, 'cause I'd always tell him not to take very much, and he'd always give you one of those severe buzz cuts. You saw the hair falling on the floor and you thought, "Oh, my, he can't be taking that much off! I told him not to take much off!" Then they'd swing you around to that mirror and you'd go, "Oh, my goodness!" My mother'd pick me up and say, "Oh, it'll grow back." But one day at the age of 21, Batt happened to be at his uncle's barber shop again, and met a newspaper editor. Batt says, "One thing led to another, and the editor's son did a cartoon strip, and he said "You should write some stuff for him, too." And everything else went word of mouth. And again it was just luck. I happened to be in there.
Storytelling
"[Uncle Bill] was a barber for 62 years, and could tell a story… Part of the reason I wanted to be a writer is we were a family of storytellers – as every family is," Batt continues. "We didn't have a TV for many years and we'd tell stories. I fell in love with not just the written word, but the spoken word. I could picture all our ancient ancestors sitting around fire, and swapping lies about their mastodon hunt or something during the day. And everybody has a story to tell. Everybody should preserve those stories in whatever way is comfortable for them, whether they speak it into a digital device or write it down, or have somebody else write it down for 'em, they should do that. We all have stories to tell. We all have amazing stories to tell. Everybody. Just talk to first-graders or kindergarteners. They have incredible stories to tell. They're not always true, but they're still wonderful stories. I love hearing 'em.
"I visited a relative, 106. She would tell all these stories and I'd write them down, and she'd say, "What are you doing that for?" and I'd say, "'Cause nobody else remembers what you remember." 'Cause her mind – she was sharp as a tack. Then she said, "How do you know I'm telling you the truth?"  I said, "Well, I'm just gonna trust ya.""
When Batt is on the road, he stops at nursing homes to hear the old people's stories: "I stop at the desk and ask, "Is there somebody here that rarely gets a visitor?" and they say, "You know, Bob down there, he loves to talk to people, but he has no family left." So I just go sit down... Half the time they don't even ask who I am. They're just happy to have somebody speak to 'em." Batt says it's easy to get people talking – about when they were in the service, for example, or if they ever milked cows, or about their first car. And Batt writes down their stories.
Writing everywhere
Batt writes wherever he finds himself: coffee shops, airports. 'The best is at my desk at home, if I can do that," he says. Although he's learned to be comfortable writing wherever he is, Batt admits that there are better places than others. "I've tried writing in cafés where I know everybody, and then that doesn't work out very well, because they all sit down by ya, and you can't [write], so the best place to go sometimes is where you don't know anybody. And if you need a break, you can just sit back and listen in to somebody's phone conversation. There's always somebody more than willing to share their personal life and their medical history with you over the phone.
"But it's good when you sit down, and then all of a sudden you look at the clock, and an hour and a half has gone by, and you feel as if you just sat down. 'Cause then you go off to that place where you need to be to get things written."
Batt writes on his computer, on an IPad, on yellow legal pads… "And I like writing in pencil," he says. Why? "I don't know because I don't erase; I just cross it out." Batt likens the sound of a pencil to the comforting, scratchiness of an old fountain pen. "Pencil makes a different sound, but it's equally comforting. I like that sound. And writing should have some sort of rhythm to it. I think sometimes pencils maybe help. Plus I need to support what I believe to be a dying industry. Pencils have to [have] come upon tough times, I would think. Schools, I know, still use them, but who else does? Not many."
Sometimes Batt writes in the middle of the night, too – with pen. "You ever wake up in the middle of the night and write things down and then try to read it in the morning sometimes?" he asks. "And it'll say, you know, "Amazing asparagus and kumquat," or something, and you think, "What in the world does that mean?" And I leave it there for two weeks, 'cause I think it'll come to me, and then finally you end up throwing it away, 'cause you have enough… But somewhere in your dream world, that was like the greatest idea ever. You have to write it down right away before it goes away. It's just the oddest thing. And I've got one of those pens with the light on the end, so I can do that."
Public speaking
Clearly Batt has good reason for calling himself a storyteller, which he says is for the sake of brevity. "'Storyteller' covers the speaking I do," he says, "and the storytelling festivals, as well as writing, and the radio shows that I do. It's all about storytelling. And I just love stories."
Batt is also clerk of Hartland township, a husband, father, and grandfather. He's on the Salvation Army board, among a number of other boards, and writes four or five columns every week. "And I speak all over," he says. "I've been lucky enough to speak all over the world."
Does it make him nervous to speak in public? "No. It did when I was a kid," says Batt. "And I think what got me nervous, was you'd sit there waiting for your turn to get up there, and the kid ahead of you would get up there […] with the papers shaking, and all the sudden you think, "This has gotta be terrible!" But I had some really good teachers who kind of got me over that.
"The thing that made me nervous was, because of this health condition [cancer], I had to cancel 12 talks. I'd never missed a talk in my life, and to cancel 12... And I'll have to do a lot more. That's just in May."
The prognosis is good, and Batt is looking forward to getting back to doing what he loves best: telling stories.
Most of the stories Batt tells are true stories, including the columns he writes for the NRHEG Star Eagle. He really does have two neighbors named Bruce: Bruce Armstrong and Bruce Langley. Batt says, "We don't throw the word around 'great women' and 'great men,' but we should probably a little more. They're great men."
Batt knows that writing is a great problem solving technique, and helps to solidify thoughts. "I think I form opinions before [I write] and then they change often while I'm writing," he says. "It's pretty easy for a person to change his own mind. It's hard to change anybody else's, but I can change my own pretty quickly."
Influences
Batt says his mom and dad were the biggest influence on his life. "I love my mom and dad," he says. "They were honest, hardworking, sweet, kind... They were just wonderful people. It doesn't mean my dad didn't yell at me on occasion, 'cause I deserved it, but they were just good people.  And, you know, we don't always remember […] what people tell us, but we remember what they do, and man, I couldn't have had better people to try to emulate. I still talk to them. I go out to the graveyard here in New Richland, and sit down and visit with 'em yet. I'm sure some people drive by and say, "Oh, that poor old boy. He's feeble minded there." […] I just talked to my brother. He's buried by Hartland. They're good listeners."
Both of Batt's parents, George and Lucille, are transplants from Iowa. "They got a realtor from Blue Earth who sold them a big swamp outside of Hartland," says Batt. The realtor told them it would be a perfect dairy farm. When asked if this turned out to be true, Batt replies, "Oh… It was a wonderful place to grow up. Big woods, and a lot of marsh, and the Le Sueur River... For a kid that liked nature it was ideal." Batt describes how he used to shimmy down the drain pipe from his room and wander in the woods all night. He says afterwards he felt bad because his mother worried about him.
Batt has his mother to thank for both his sense of kindness as well as his sense of humor. She was always preparing meals and offering to do chores for people who had gotten hurt during harvest or had lost a loved one. "I figure if I could get a quarter as nice as she was, and kind, that'd be a pretty good achievement," says Batt. "My mom was just a sweety." Batt found out a way to get out of trouble with his mom, too. "My mother loved to laugh," says Batt. "It was difficult for her to stop laughing once she started. She often found a "tee-hee's nest with a ha-ha's egg in it." I discovered at an early age that if I could make my mother laugh, I could get by with things like being late doing the chores. It was a valuable lesson."
For decades, Batt has been sharing his humor and the lessons he has learned in life. Cancer has slowed him down temporarily, but Batt has a positive outlook. "You know, I'm in really good health, except for cancer," he says, "and I write about it, 'cause… I'm really good at keeping secrets. If somebody said, "I want you to keep this a secret," I'll keep it to my dying day, but I'm not really good at keeping secrets about myself. […] When you're writing four or five columns a week, I've found that you write about pretty much everything. So I'm at the Mayo Clinic in Rochester, going in for surgery, and every medical professional I've met over there has been so nice. I've met more friends and neighbors while in those huge waiting areas that I had no idea were battling some of the same things I am. I don't know how you can say having cancer is anything other than an unpleasant experience. That's it; I've had all kinds of pleasant experiences accompanying it from people that I've met and people that I've talked to. I'm getting cards and letters from people I have no idea who they are. They're just really sweet and nice, so if good things come out of things like that, it's that." Batt plans to remain "a burden on society" for a good many years to come.
And he plans to keep writing and speaking for as long as he can: "I can't imagine retirement. I don't have any retirement skills. I don't golf, or fish, or watch football, or any of those things." Outside of his writing career, Batt plans to spend a lot of time with his family. "I love my family. And get healthy, I guess, [that] is a big one, too. But I want to do a lot of traveling. I love to travel. And, of course, I want to do a lot of birding."
Batt concludes, "I guess I'm just thankful that I've been able to do what I do. I love what I do. I love my job. And what a great thing that is to love your job. […] I can't imagine ever not doing it. Are there parts that are work? Oh, sure, there's things that are work, but, boy, I just love what I do. Thank you, Mrs. Demmer, and everybody else."