NRCC introduces variety of therapies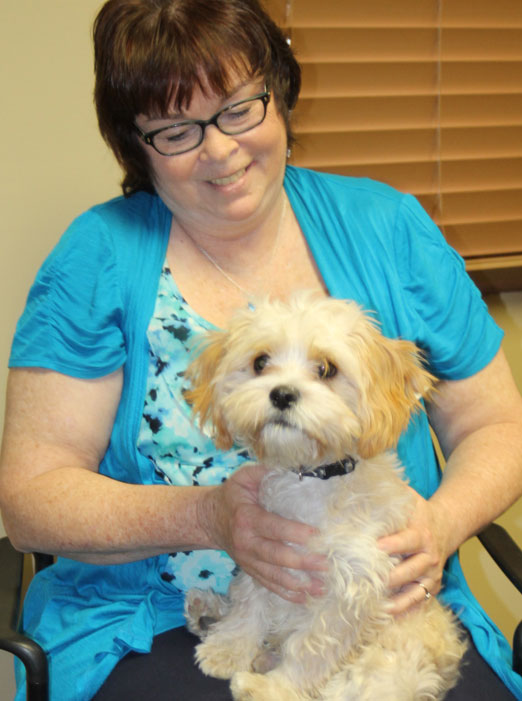 RISING STAR — Sandy Hart of NRCC holds Billy, a puppy that's become quite popular with residents. (Star Eagle photo by Jessica Lutgens)
By JESSICA LUTGENS
Staff Writer
The New Richland Care Center's mission to provide the best care possible for its residents continues. The latest step toward that goal is the result of a grant received by the center earlier this year providing funds to aid in non-pharmaceutical interventions for dementia patients.
In January, the center hired Sandy Hart to head a new program—PIPP, or Performance-Based Incentive Program—that would lay out a set of initiatives to help reduce the use of antipsychotic/antianxiety medications in residents with dementia. With the help of care center administrator Don Alexander and other staff, it was decided to introduce several new types of therapy, including aroma and massage therapy, pet therapy, and music and memory therapy. A computer system called It'sNever2Late (iN2L) was also installed that provides numerous opportunities for residents.
First implemented was pet therapy, as one of the nurse managers offered to bring her six-month-old puppy, Billy, during her shifts. The residents have taken quite a liking to Billy, and according to Hart, Billy is enjoying his new role as well.
"Billy's become a star," Hart said after introducing the little yellow pup.
Aroma and massage therapy have yielded positive results, too. Oil diffusers have been placed around the center and in residents' rooms, which help promote relaxation, and customized lotions have proved beneficial to those with muscle spasms.
The iN2L system allows residents to create their own profile page that their families can contribute to, as well as reminisce with familiar songs, TV and radio programs and advertisements, etc. from the past. The system is interactive, with games like Family Feud and The Price is Right for the residents to participate in, as well as exercise attachments and location searching that some residents have used to look up previous vacation spots or places they served in WWII. One resident, a former pilot, was able to use a flight simulator program with the system to feel as though he was flying a plane.
"Some residents enjoy the computer, while others are still hesitant," Hart said.
The computer system also allows residents to video chat with family members via Skype, which Hart said some are very excited about. 
"We're trying to change the culture," explained Hart, "so it's less institutional, and more of a family/community."
Currently live music is provided at the center on occasion, and Hart hopes to form a choir within the center to perform with the NRHEG High School Choir this fall and next spring. There are also music attachments for iN2L that will enable residents to feel like they are playing the instruments in the song they're listening to. Memory and doll therapy are also planned for the future.
The center has also sent word to area churches looking for volunteers to help with art therapy, small reading groups, gardening, cooking, and sewing.
"We're taking it one day at a time and still figuring out what works," Hart said. "We're zeroing in on dementia patients, but the new programs are here for all the residents."
The center is excited about the possibilities the new program will bring, and wants to take all measures to ensure its success. 
"We're not looking for a Band-Aid," said Alexander. "We're looking for permanent solutions."