Speaker leaves students spellbound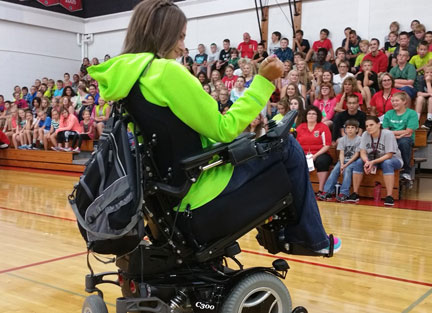 SPELLBOUND STUDENTS — Tasha Schuh, a quadriplegic from Ellsworth, Wis., held the interest of NRHEG students on the first day of school. (Submitted photo)
By MARK DOMEIER
Contributing Writer
Sixteen feet is a long way to fall. Falling that far and landing on your head on a concrete floor is often a tragic fall; survival odds are long.
Yet, that's just what Tasha Schuh of Ellsworth, Wis., did in 1997. While working on a production of The Wizard of Oz at her high school in Red Wing, Minn., Schuh fell through a trapdoor, breaking her neck, fracturing her skull, and crushing her spinal cord. She was in a coma for eight days and wasn't given much chance to live.
Yet there she was in front of the NRHEG student body on the first day of school, speaking about her life experiences and how to deal with adversity. "Yes I can," was a phrase she taught students to say in sign language, a phrase she has used as a mantra often during her recovery and subsequent embarkation on a career as an inspirational speaker.
Schuh spent six months in the hospital and rehab following her accident and was ready to give up at various times. To her, being a quadriplegic and living in a wheelchair was the worst conceivable life she could imagine. However, she persevered and ended up doing things her doctors never conceived of as possible, based on her injuries.
The biggest of those accomplishments was Schuh's ability to move her wrists. She was paralyzed from the chest down. While retaining movement in her head, neck, shoulders, and biceps, she was told she'd never be able to use her hands again. At first she didn't understand why her doctors were so excited by the movement in her wrists, but she quickly discovered that it opened up numerous doors to activities she never thought she could do again such as driving, writing, and putting on her own makeup.
"Little is huge," she reiterated to her spellbound audience. A little thing like moving her wrists allowed Schuh to use specially modified equipment to live as normal a life as possible. While she can't use her fingers, devices that attach to her arms give her the mobility needed to perform those tasks we take for granted.
While her presentation was changed slightly between the middle school and the high school, the basic message remained the same: We all have excuses for things going wrong and reasons to give up, but we never should. Schuh is a strong Christian, even adding a degree in theology after originally gaining one in communication. Her faith guided her through the dark times and continues to help her today. It even helped her meet her husband, Doug, having met him on a Christian dating site. He is with her for her speeches and even lets her do most of the driving, though he jested that she was scary at times behind the wheel.
Students were spotted throughout both sessions with tears in their eyes as Schuh shared her emotional story. Many of those students continued to talk about it the rest of the day, and it wasn't long before her Facebook page had many comments from students and parents, thanking her for her inspiration.
For both sessions, Schuh ended by telling those gathered that the doctors told her she would never sing again because her stomach muscles had been paralyzed. This was heartbreaking to her, since she had always loved music, especially singing and playing piano. But once again, she proved the doubters wrong. She finished by singing the signature song from that play she was participating in when injured, "Somewhere Over the Rainbow." It was a brilliant rendition and brought the students to their feet when she was through.
Schuh and her husband took time after each presentation to chat with the students and staff, even signing bookmarks for anybody who wanted one. She had other items that some people ordered, including copies of her inspiring book, My Last Step Backward, published in 2012. More information on Tasha Schuh and her story can be found on her Facebook page or on her Web site www.tashaschuh.com.
 She claims she wouldn't trade what happened to her for what would be considered a normal life at all, having accomplished so much since that fateful day. While Tasha Schuh may have fallen sixteen feet in 1997, she has risen quite high since then, and maybe, just maybe, has helped raise the spirits and hopes of students at NRHEG as they embark on the 2015-2016 school year.