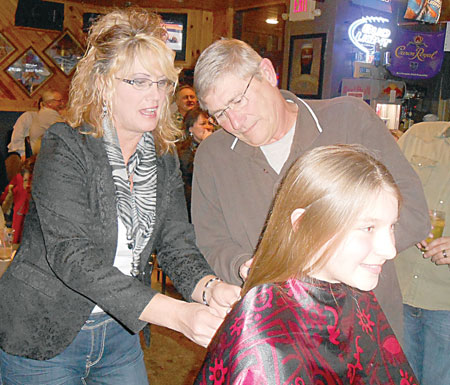 LOCKS AWAY – Rhonda Haried holds Cloie Arndt's hair while Cloie's Grandpa, Jerry Arndt, makes the first cut. Grandpa was the winning bidder with $5.  Star Eagle photo by Kathy Paulsen
By KATHY PAULSEN
Staff Writer
Young people decide to grow their hair for many purposes.
It was 3 or 4 years ago when 11-year-old Cloie Arndt started growing her hair for a purpose. That purpose was to honor her grandmother, Cindy, who was battling cancer.  
It was one way she felt she could "do something."  Friday night, Jan. 9, 2015, became a night to remember for Cloie and her family as she went to the Geneva Cancer Auction at the Geneva Bar and Grill with her hairdresser, Rhonda Haried.
Cloie, daughter of Kelly and Tiffany Arndt of Geneva, donated her "locks of love" for "Wigs for Kids" during the first night of the auction this year.  
Over the years Cloie has tried to keep her hair in good health and would periodically have her haired trimmed.  Even though three months ago Cloie had her hair once again trimmed Rhonda was still able cut 11 inches off of Cloie's hair on Friday night.  It was an emotional moment when her Grandpa Jerry Arndt, who had earned the honor of making the first cut and donating $50 in the process, made that first cut.
Whitey Hagen, who knows the value of hair, borrowed a serving tray from the Geneva Bar and Grill and walked around the bar and grill with it balanced on top of his shiny, bald head, gathering donations from the crowd.
Cloie's dad, Kelly, is a member of the Geneva Fire Department. When the department heard about Cloie's plan to have her hair cut for "Wigs for Kids," the department decided to support the event and donated $150.  The Ellendale firemen also decided to support Cloie, and donated $200. Rhonda Haried/Looks Unlimited also donated $250 in Cloie's honor in appreciation for what Cloie was doing to help others.
While Rhonda was putting the finishing touches on Cloie's haircut, one of the people helping with the cancer auction totaled up the money that had been collected as Whitey made his way around the bar and grill. A total of $907 had been donated. Cloie had her picture taken with Rhonda and the wad of money that had been donated before she presented it to Jayne Busho who was serving as the clerk/cashier for the night.
Before the night came to a close at 10:00 on Friday night, several more donations were also received in Cloie's honor, which brought the value of this one young girl's haircut up to $1,017, plus the donation of her hair to "Wigs for Kids."
"George" as her father affectionately calls her, was one proud and happy young lady when she heard the amount of money that had been raised on Friday night. ("George" has a 13-year-old sister, Kylie, who has also been given a special nickname, of  "Fred," by her loving dad.)
Cloie may now have less hair to brush for a time, but lots of love went with the crop of hair that will benefit another child, so they will be able to sport hair again.
Two more haircuts were performed on Saturday during the auction.  Patty Anderson of Iowa, and Katelyn Tollefson, daughter of former New Richland area resident Jim Tollefson, also had their "locks of love" cut and donations for cancer were made in their honor.
Plans are for a couple more haircuts to be completed on Saturday, Jan. 17 during the cancer auction.  Lisa Full will be cutting the hair of two area young people, Catie Grandia, 11, and Danny Mundur, 20, at 5:00 on Saturday afternoon. Keith Hagen is also planning to have Trisha Wayne cut off his hair later on Saturday. 
"Locks of Love" is a non-profit charity based here in the U.S.  The organization accepts donations of human hair and money with the intention of making wigs for American and Canadian children.  When people donate their hair they are giving a very precious gift.  It take at least 8 to 15 ponytails, which come from many different people with different shades of hair, to make the realistic wigs which brings real hope to people who have lost their hair to cancer.