At 94, Myrtle Peterson enjoys life at Ellendale's Whispering Oak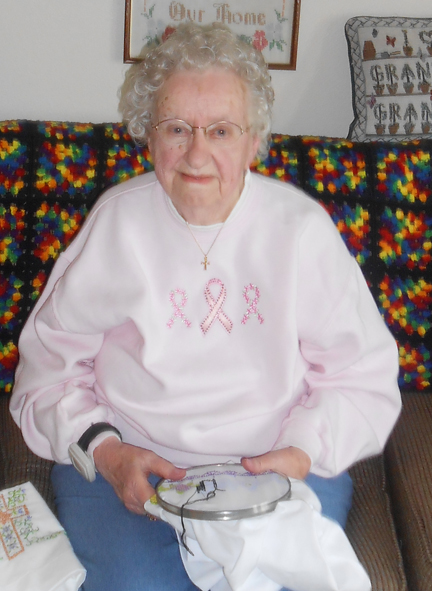 HAPPY TO PITCH IN — After suffering a broken hip, Myrtle Peterson may not get around as well as she used to, but she greatly enjoys her busy schedule at Whispering Oak. (Star Eagle photo by Kathy Paulsen)
By KATHY PAULSEN
Staff Writer
There often comes a time when for some reason or another as a senior citizen, you have to leave the home you have lived in for oh-so-many years, and move to a care facility. In 2012, Myrtle Peterson had just gotten out of her car when she took a fall. She ended up with a broken hip and needed some help to recover.
Fortunately, Myrtle had just gotten a call button, the type you wear around your neck, and she was able to call for help. 
At 94 and living in new territory, what does one who has lead a busy, event-filled life do? Keep on doing fun and practical things that not only keep your mind and body busy, but include friends and other residents as well.
Myrtle and her husband, Richard, were faithful members of the United Methodist Church in Geneva for many years. Myrtle continued to attend services there until it closed, and now attends church services in Ellendale. Myrtle is extremely happy that someone from the church in Ellendale will come to Whispering Oak and pick up people for church on Sunday mornings. Myrtle commented they have a carload every Sunday. Myrtle also takes part in a Bible study group that meets weekly at Whispering Oak.
Myrtle said that birthdays, Christmas and other holidays were always something she enjoyed while on the farm. Christmas was a big event for Myrtle, and thanks in part to a busy little elf, namely Pat Motl, the holidays continue to be special for her. Pat goes above and beyond to help the residents at the Oaks celebrate each of the major holidays; she decorates, plays music and plans fun events for the residents to enjoy.
This great lady and her husband didn't get to travel far from home during their years together. They lived on a farm and had a barn full of cows, hogs, sheep and chickens.
Myrtle commented, "When you have animals to tend and care for you can't go far. It also meant you enjoyed and spent time with your neighbors, many in the same circumstances as you were."
Myrtle still has good neighbors at Whispering Oak. Myrtle, Velma Wayne and Mabel Dobberstein work on quilts together, and those residents who feel they're not very "hands-on" enjoy watching the ladies create their masterpieces. Quilts take up space in production, and there isn't much extra room in one's apartment. Sometimes Motl has allowed them some space out of their rooms for a day or two, which helps. Myrtle just finished a quilt top and will take it to one of her friends, who will help finish it.
Myrtle isn't the type to be comfortable sitting and doing nothing. She's fortunate to have good entertainment at the Oaks. She enjoys playing cards and bingo, and she mentioned many of the residents also play Skip-BO. She enjoys it all.
Myrtle still makes time to do embroidery work and crochet. Over the years she has donated many of her creations to the Geneva Cancer Auction. Currently she is busy making things for her granddaughter, who will have a wedding this fall. She also showed me a doll blanket that she was putting a decorative edging on for one of her great granddaughters.
Myrtle likes to sew, and has for years.
She explained, "Years ago, people didn't just go to town to buy clothes like they do now. Availability wasn't as prominent, and economics were also a consideration. It was just the thing to do." 
Myrtle is always willing to help residents at the apartment who need clothing repairs. Not everyone has a sewing machine, but they do have a good neighbor.
Myrtle comes about her lifestyle naturally. Born to C. F. and Lena Anderson on the family farm north of Blooming Prairie on January 27, 1920, Myrtle is sixth in line in the Anderson family with siblings, Frank, Bertha, Anne, Fred, Ella and Raymond.
Myrtle met her late husband at a birthday party for a good friend. The two of them enjoyed going to movies in Blooming Prairie, and going to dances at Zwiener's Ballroom. Myrtle's sister, Ella, and her friend would join them to dances. Back then people didn't travel far, but they did have fun.
Richard and Myrtle were married April 19, 1944 at the Community Lutheran Church in Geneva. Rev. Enskow led the ceremony. They went on to live with their parents for about a year before they bought a farm of their own. Richard and Myrtle had three children: Gloria, Gary and Wendy. There are 10 grandchildren and 13 great grandchildren, plus one more on the way.
Richard died in 2009 and Myrtle stayed on at the farm, which was about three miles east and north of Geneva on County Road 35, for two years until her accident. Following her fall, Myrtle felt God was telling her it was time to move and not be alone on the farm. After surgery and therapy Myrtle is able to get where she wants to go, with a little help from her trusty cane. She still owns the farm, renting out the land and farmstead.
One of 30 residents at Whispering Oak, she likes it there and keeps busy. Residents enjoy eating together three meals a day. They have a daily menu, plus an option of doing some personal cooking in their fully equipped apartments. Myrtle still makes homemade chicken and noodles, a family favorite. Lerberg's delivers groceries to the Oaks and residents have their own washers and dryers.
She enjoys the activities at the Oaks instigated by Motl, who not only leads them in exercises in the morning but provides cards, games, programs, jigsaw puzzles, music, afternoon coffee, etc.
Myrtle is someone who makes a difference. She is proof that age is no obstacle and care facilities can be a blessing.