Trisha Lestrud lands back in Hartland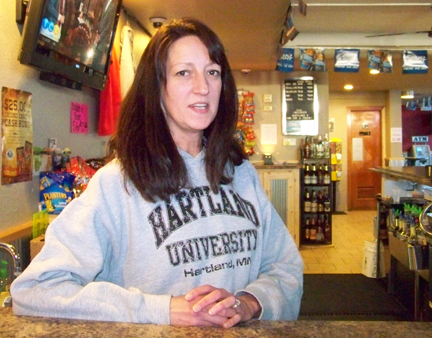 HOME IN HARTLAND — After traveling to Sweden to be an exchange student, living in Hawaii managing a travel agency, working as a nurse and managing two clubs in Albert Lea, Trisha Lestrud is right at home behind the bar at Hartland University. "I lost touch with my community, and now, I'm getting back into that," said Lestrud. "I'm home." (Star Eagle photo by Carol Jolly)
By CAROL JOLLY
Contributing Writer
Seventeen-year-old Trisha Lestrud's mind wandered as she sat in the classroom. She thought of hanging out with her friend Nancy, and of the amazing adventures life might hold for her beyond her senior year of high school.
"I wasn't real outgoing – band, choir," Lestrud said dismissively. "And I really wasn't very good at sports."
Impulsively, she rose to her feet, books and assignments in hand, and requested permission to be excused.
"I was a good kid," she said.
Moments later, she found Nancy in the hallway, and together they went to the Foreign Exchange Student informational meeting.
Later, Lestrud presented the application (filled out except for the required parental signatures) to her parents, six sisters, and two brothers during supper. After consideration, her parents signed the consent form. And a few months later, Lestrud was off to Sweden for one year, to a culture unknown, to live with complete strangers. Nancy? She went to Finland. 
Lestrud moved every two months while in Sweden. She had six host families, and even went to Finland for the weekend twice.
Upon returning home to Chatfield, "The Gateway to Bluff Country," Lestrud began her work experience education as a travel agent.
Before long she was offered the opportunity to move to Honolulu, Hawaii to operate and manage a travel agency. She busied herself with the Islanders, and soon became a Special Education PE Teacher. While there, she was selected and trained as the Special Olympics coach for the state of Hawaii.
"That was one of the most amazing and proudest times of my life," Lestrud said.
Opportunity again knocked on Lestrud's door, and this time she was off to Mesa, Arizona. 
After working in the healthcare field for a couple years, she longed for home. Ten years had passed since she registered for the Foreign Student Exchange Program.
Lestrud moved to Austin, where she continued her education at Riverland Community College. She received her degree as a Hospital Unit Assistant. While living and working in Austin for eight years, she met her husband, Craig. They married and moved to Hartland, where they still live.
Lestrud tried her hand at bartending at the local pub. She discovered she loved it.
She was then hired as club manager of the Albert Lea Moose Club. After several years, another chance happening presented itself at the Eagles Club in Albert Lea. She became the bar manager there and stayed for nine years, until October, when Dan and Tara Harguth, owners of Hartland University, invited her back as manager.
Now, Lestrud is back behind the bar of the local watering hole, where it all began. 
"I like being back," said Lestrud. "I'm not a desk person. I love people, and socializing."
While Lestrud definitely misses her Albert Lea friends and acquaintances, she appreciates the diversity of people and cultures she has met along the way, and is enthusiastic about those she has yet to meet.
The self-proclaimed "plastic foliage murderer" can be found preparing for Hartland University's daily responsibilities, and planning upcoming special events. In her off-time, you will find her reading a book in her nook, sewing, and being a first-time grandmother for daughter Candice. Finally, she is completely living and loving life in Hartland. 
"I lost touch with my community, and now I'm getting back into that," said Lestrud. "I'm home."