Girls upset Norwood-Young America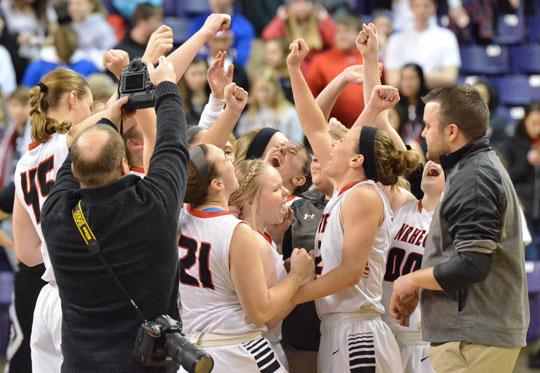 Members of the NRHEG girls' basketball team celebrate their 53-45 victory over Norwood-Young America Friday, March 10 at Minnesota Stat-Mankato, winning their first Section 2AA championship in three years and advancing to the state tournament for the fifth time in school history. (Star Eagle photo by Chris Schlaak)
By JIM LUTGENS
Editor/Publisher
The Panthers are back.
After a three-year hiatus from the state girls' basketball tournament, the Panthers earned a return trip with a 53-48 upset of No. 2 rated Norwood-Young America in the Section 2AA finals at Minnesota-State Mankato Friday, March 10.
It's the Panthers' first trip to state since 2014, when Carlie Wagner graduated and took her talents to the University of Minnesota. Overall, the Panthers have been to state five times, placing first twice, third and winning the consolation championship in 2004.
NRHEG improved its overall record to 25-5 while handing the Raiders only their second loss of the season.
The Panthers will take an 18-game winning streak to state, their last loss coming on Jan. 7 at Hayfield.
It was a sweet win for the Panthers, who entered the game as decided underdogs. It was made sweeter by the fact they started slowly, showing obvious tournament jitters while falling behind 15-2 and 17-8, the same deficit they faced in the sub-section semifinals against WEM.
The Panthers, unseeded in the state tournament, face No. 1 seed Roseau (29-0) in the opening round Wednesday, March 15 at 2 p.m. at Mariucci Arena in Minneapolis. The winnner plays Friday at 6 p.m. at Williams Arena in Minneapolis, the loser plays Thursday at 6 p.m.at Concordia University in St. Paul. The finals are Saturday, March 18 at 2 p.m. at Williams Arena while the consolation finals are Saturday at 2 p.m. at Concordia.
The rest of the field includes No. 2 Sauk Centre (29-1), No. 3 Watertown-Mayer (26-3), No. 4. New London-Spicer (26-3), Esko (24-6), Minnehaha Academy (25-4), and Rochester Lourdes (21-9).
Members of the NRHEG team include seniors Grace Johns, Maddie Wagner, Marnie Wagner, Gretchen Ramaker, Rachel Collins and Kayley Camerer, juniors Gabby Muri, Lauren Herrmann, Erin VanWilgen and Betsy Schoenrock, sophomores Alexis Anderson, Olivia Christopherson, Caitlin Goette and Hannah Budach, and seventh-grader Sophie Stork. The head coach is Onika Peterson, assisted by Drew Paukert and Sharon Ramaker. Lexie Ignaszewski is the student manager.
"I was real excited to take over three years ago with the group of girls we had coming back," said Coach Peterson. "They wanted to succeed, and they got better every year. This is awesome to see."